How to Easily Clean Your Roof with a Pressure Washer
Does your roof need a good cleaning? With the proper tools and preparation, it's easy to clean your roof safely and quickly with a pressure washer. In this blog post, we will walk you through the essential steps for properly pressure washing roof, from prepping the area to applying detergents and rinsing off any debris or dirt. Whether you are taking on this task yourself or enlisting help from a professional contractor roster with certified technicians, following these workflow tips will ensure an easier process and better results!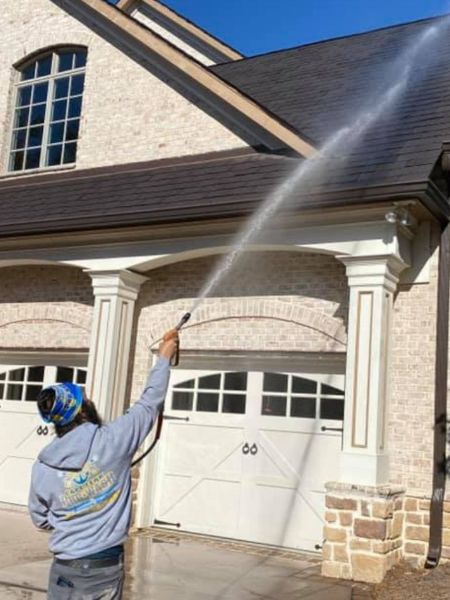 Overview of the Benefits of Cleaning Your Roof with a Pressure Washer 
Cleaning your roof with a pressure washer can be an easy process if done correctly and has a number of benefits. Pressure washing can help remove dirt and debris that accumulate over time on a roof, restoring it to its original appearance. Pressure washers also make quick work of removing moss and other vegetation that can grow on roofs, helping prevent further damage to the structure. In addition to improving the look of the roof, removing dirt and debris can help to extend its life, saving you money in costly repair or replacement fees down the road. Pressure washers furthermore use far less water compared to traditional cleaning methods, making them a great way to keep your roof in tip-top shape without wasting your precious H2O.
Safety Tips for Using a Pressure Washer on Your Roof 
Safety should always be first priority when using a pressure washer on any part of your home, including your roof. Make sure to only use a ladder that is rated for the weight of the user, and secure it when you are up it. Similarly, use all safety precautions and wear protective gear such as boots, gloves and eyewear while working. Additionally, avoid getting too close with the pressure nozzle, as this can result in damage to both yourself and your roof. Lastly, set up barriers or secure items such as furniture before beginning to ensure that they remain safe from any escape water or debris. Following these tips will help ensure a safe cleaning experience when using a pressure washer on your roof.
Recommended Accessories for Cleaning Your Roof with a Pressure Washer 
While you can use a pressure washer alone to wash your roof, there are accessories you may want to consider for an easier and more efficient clean. Soft bristle scrub brushes make it easy to remove stubborn spots and stains. For easily covering large surfaces quickly, you'll also want a wide flat surface cleaner designed especially for roof cleaning. Consider adding nozzles that produce less pressure as well, so that hard-to-reach areas are not damaged with too much water pressure. Finally, having extensions available so that you can safely reach higher points of the roof is essential. With the right set of accessories, correctly using a pressure washer will make cleaning your roof easy.
Best Practices for Maintaining Your Roof After Cleaning It with a Pressure Washer 
A pressure washer is an excellent tool for quickly cleaning your roof, but it should not be the only step in keeping your roof in top condition. Proper maintenance after cleaning with a pressure washer helps to protect the integrity of the roof by removing debris and other elements regularly. Best practices for maintaining your roof include scheduling a professional inspection at least once per year, making any necessary repairs as soon as possible, and checking the gutters to make sure they are clear of obstructions. Additionally, cleaning off dirt and leaves from the surface of the roof routinely will help keep it looking vibrant over time. By following these simple recommendations you can rest assured that your clean and restored roof will stay in top shape!
Cost Savings from Cleaning Your Own Roof with a Pressure Washer
If you want to save money on the upkeep of your roof, you can do it yourself! Cleaning your roof with a pressure washer is an easy and affordable way to keep your roof looking pristine, while also saving a significant amount of money that would otherwise be spent on contracting out the job. Not only does cleaning with a pressure washer put more money in your pocket, but it also gives you the opportunity to take an up-close look at your roof's condition and make informed decisions about necessary repairs or replacement if needed. Taking an active role in maintaining the integrity of your roof not only saves you time and energy by tackling the task yourself, but also offers long-term savings down the line.
Cape Fear Pro Wash, LLC
https://www.google.com/maps?cid=3105027869549498974
229-B Transfer Station Rd, Hampstead, NC 28443
(910) 418-1650
https://capefearprowash.com/