How to Clean Your Roof and Keep It Looking Great With Power-Washing
Having a clean roof is essential to ensuring the longevity of your home and keeping it in excellent condition. By regularly power-washing roof, you can keep it free from debris, tree sap, leaves and other elements that will eventually cause damage. Power-washing allows you to quickly and efficiently remove dirt, grime or mold from all parts of the roof without causing any harm or damage to the structure beneath. In this blog post we will discuss how power-washing can help keep your roof looking great for years to come.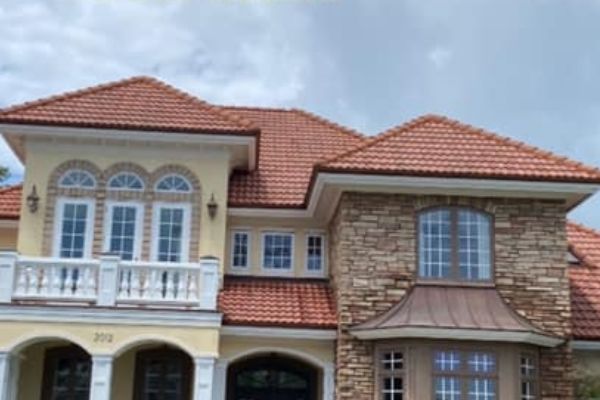 Why Cleaning Your Roof Should Be a Top Priority 
Regular roof maintenance, such as power-washing, is essential to protect the integrity of your roof and improve its visual appearance. Cleaning your roof on a routine basis not only keeps it looking great but also helps reduce costly repairs in the future by preventing issues like moss growth and shingle deterioration. Moreover, it can contribute to an increased lifespan for your roof which can help you save significantly on replacement costs down the road. By investing a small amount of effort today, you can ensure that your roof continues to look fantastic and that its structural integrity is kept intact for many years to come.
Identifying the Best Time to Get Started on Power-Washing 
Power-washing your roof can be an effective way to get rid of dirt and grime that builds up over time. However, it's important to identify the best time to get started on power-washing your roof, as it can have a significant impact on the overall outcome and longevity of the project. In general, it is recommended to wait until after temperatures begin to moderate in order to ensure the most successful results; this decreases the risk of streaking or other damage and keeps the paint looking great for years to come. Additionally, depending on your location, you might want to consider having a professional do the job in order to ensure maximum security and efficiency.
Gather Necessary Materials and Safety Gear 
Power-washing is a great way to keep your roof looking its best, however, it's important to make sure you have all the necessary materials and safety gear before you begin the project. Prior to power-washing your roof, make sure you are equipped with a pressure washer, soapy water, an extension ladder that can safely reach the roof, non-slip shoes or boots, safety glasses, work gloves and a weatherproof cover that protects the soil below from any chemicals. Taking the time to gather these items ensures you are properly protected while cleaning your roof and helps ensure that the job is done right the first time.
Maintaining Your Roof After Power-Washing Is Complete 
After you have completed power-washing your roof, it is important to take the necessary steps to ensure that your roof looks great for many years to come. Firstly, use a durable sealant over any exposed nails, cracks or seams to protect from weather damage. It is also recommended that you inspect your roof every 6 months for issues such as peeling paint, missing shingles or sagging gutter lines. Lastly, be sure to regularly clear away buildup of leaves and other debris which can cause blockages and moss or mold growth. Taking these precautionary measures after power-washing is complete will guarantee that your roof remains looking pristine and functioning optimally in the long term.
Tips for Hiring Professional Roof Cleaners
When it comes to keeping your roof looking its best, hiring a professional power-washing service can be a wise investment. The benefit of working with an experienced professional is that they will have the knowledge and specialized equipment needed to effectively clean and protect your roof from the elements. Be sure to ask any potential contractor for evidence of certifications, insurance, and references from past customers before you make a decision. A professional roof cleaner can restore beauty to your home exterior while also providing lasting protection – making it one of the most important hires you'll ever make.
Cape Fear Pro Wash, LLC
https://www.google.com/maps?cid=3105027869549498974
229-B Transfer Station Rd, Hampstead, NC 28443
(910) 418-1650
https://capefearprowash.com/