A Pricing Guide for Pressure Washing Services – What to Expect and How to Get The Best Quote
If you're considering pressure washing services for your home or business, it is important to understand what to expect in terms of pricing. Therefore, we have put together a comprehensive guide that outlines everything from the standard rates to tips and advice for getting the best quote. Read on for our insights and know-how about finding the most cost-effective plan for cleaning your property!
Overview of Pressure Washing and Its Benefits
Pressure washing is a powerful method of cleaning that uses a high-pressure stream of water to remove dirt, grime, and other unsightly substances from various surfaces. It is a versatile cleaning technique that can be used on a wide range of surfaces, including concrete, brick, wood, and even vehicles. The benefits of pressure washing are numerous, as it is an effective way to restore the appearance of surfaces and improve their longevity. Pressure washing can also remove harmful contaminants such as mold and mildew, which can pose health risks to humans and animals. Overall, pressure washing is a valuable tool that can help keep your property looking its best while also prolonging its lifespan.
What to Expect from Professional Pressure Washing Companies
When it comes to maintaining the exterior of your property, one of the most effective methods is by pressure washing. However, if you're not experienced in using a pressure washer, it's best to leave the job to the professionals. A professional pressure washing company can provide a deep and thorough clean for your property, removing built-up dirt, grime, and stains that can't be tackled by a simple hose and soap. Not only will your property look like new, but pressure washing can also help to prevent long-term damage caused by dirt and debris buildup. With their expertise and specialized equipment, professional pressure washing companies can handle any job, no matter the size or complexity. So sit back, relax, and let the professionals take care of transforming your property.
Factors that Impact the Cost of Pressure Washing Services
Pressure washing is a powerful and effective way to clean a variety of surfaces, but the cost of these services can vary greatly depending on several factors. One of the most significant factors that impacts the cost of pressure washing services is the size of the area being cleaned. A larger area will require more time and resources, which will increase the overall cost of the service. Another factor is the type of surface being cleaned, as some surfaces are more difficult to clean than others and may require specialized equipment or cleaning solutions. In addition, the level of dirt and grime buildup will also play a role in determining the cost, as more stubborn stains and buildup may require additional time and effort to remove. By understanding these factors, customers can make informed decisions and ensure that they receive the best value for their pressure washing needs.
How to Get the Best Quote for Pressure Washing Services 
When it comes to getting pressure washing services, it's important to get the best quote possible. To do this, start by researching companies in your area that offer this service. Look for reviews and testimonials from previous customers to get an idea of the quality of their work. Once you've narrowed down your options, reach out to each company and ask for a detailed quote that includes the scope of the work, the cost, and any additional fees. Don't be afraid to negotiate and ask for discounts if you're working with a tight budget. By doing your research and being proactive, you can ensure that you get the best possible quote for your pressure washing needs.
Tips for Finding the Right Pressure Washing Company 
When it comes to finding the right pressure washing company, it's important to do your research. You want to make sure that you're working with a professional company that has the experience and equipment necessary to meet your needs. Begin by checking the company's reviews, certifications, and insurance. Ask for references and examples of their past work. Don't forget to ask about their pricing structure and any additional fees they may charge. Ultimately, you want a company that is reliable, efficient, and delivers high-quality results. Taking the time to find the right pressure washing company will ensure that you get the best value for your money and a job well done.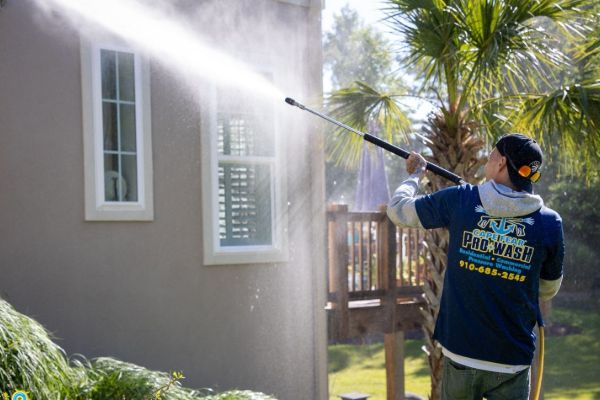 Cape Fear Pro Wash, LLC
https://www.google.com/maps?cid=3105027869549498974
229-B Transfer Station Rd, Hampstead, NC 28443
(910) 418-1650
https://capefearprowash.com/